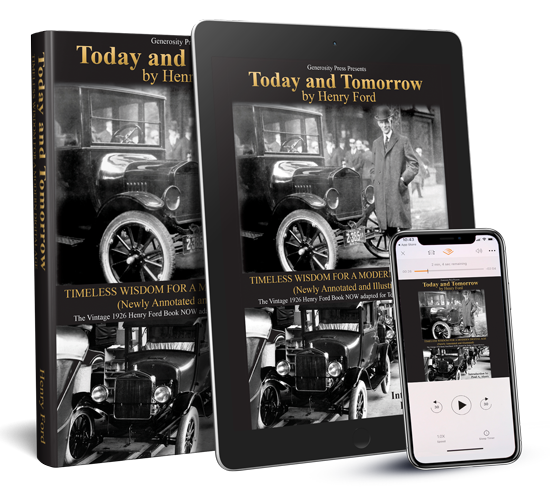 by Henry Ford
He turned an automobile into an industry, transformed the world of farming with a tractor, and launched the airplane into a new era of mass production. Ford didn't just revolutionize transportation; he completely transformed the way we work, the way we create, and the way we live. He achieved the impossible equation of improving product quality and reliability while cutting the cost in half, yet often doubling the wages and standard of living for his employees at the same time.
Ford also invested in the future by equipping people who had no foreseeable future. That included educating and training orphans and at-risk youth at The Henry Ford School for Boys. This new version of Henry Ford's book Today and Tomorrow features an interview with 88-year-old Phil Morgan. Phil was one of those "Ford School Boys" who went on to a successful life and career thanks to the famous car maker who built more than just automobiles. Phil is one of the few people still alive who actually knew and was directly helped by Henry Ford himself.
Henry Ford's Today and Tomorrow continues that mentoring tradition in true Ford fashion. It's like an assembly line for building success after success and has been churning out great achievers for nearly a century. Ford's vision was to create a timeless reminder that the work ethic and inspiration of his day could be multiplied, molded, and imprinted on the innovative minds of tomorrow.
Now you can finally enjoy this newly annotated and illustrated version of the vintage 1926 Henry Ford classic adapted for today's digital devices.
Introduced by author, businessman, and internationally recognized expert on lean manufacturing, Paul A. Akers, Today and Tomorrow by Henry Ford is timeless wisdom for a modern digital age. Now available in print… as well as eBook and digital audio-book for the first time.
Watch Paul's interview with a former student of Henry Ford.